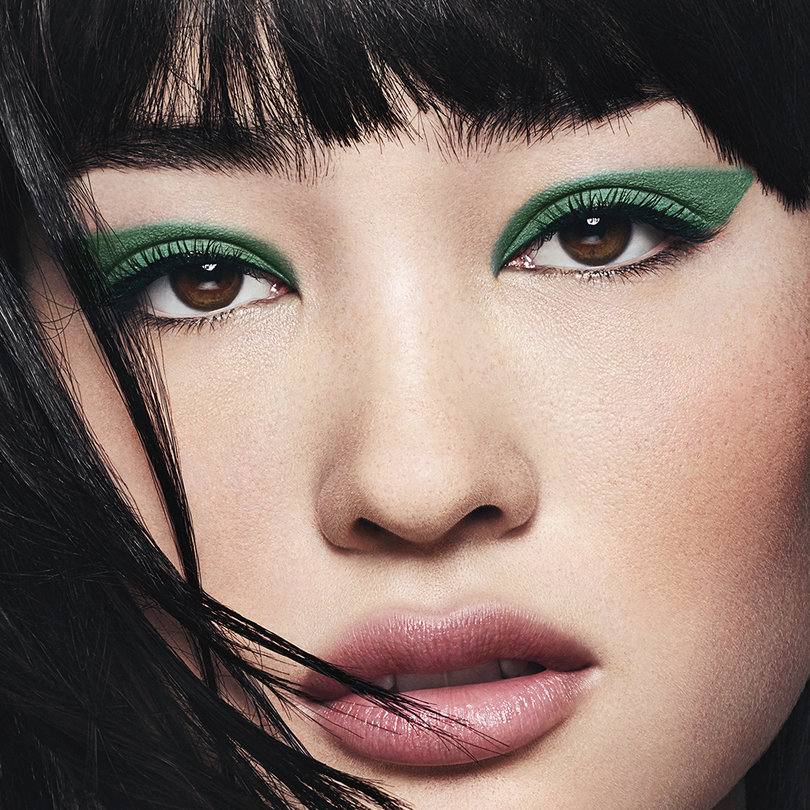 As the holiday season approaches, the amount of red, gold and glitter seen on shop floors, in store window displays and added into wardrobes inevitably increases. The same can be said about holiday party makeup. A lush, red lip, glitter-lined lids and a dusting of top-to-toe sparkles have become as predictable as the customary holiday party hit All I Want For Christmas Is You. But you don't have to stick to the tried-and-trusted classics to turn heads. You can light up the room and be the life of the party with a softer, brighter approach to your makeup look. So skip the glitter liner and try a dramatic, indigo cat eye instead. Sheer pastels are the new smokey shadows, or go for a surprisingly dramatic matte, nude lip instead of a deep, velvety red. And finally, this is the one time of year you get a pass on a little too much highlighter and a lot of glowing skin. Here's how to let these twists on classic festive makeup looks inspire you to stand out from the crowd this holiday season…
Indigo Cat's Eyes
A vivid flash of color along the lashline is a simple way to add instant definition to eyes without skimping on drama. Go for a gel-based dark blue eyeliner to get maximum color impact in one stroke. SHISEIDO Kajal Inkartist in Sumi Sky pays homage to the beautiful indigo-blue dye commonly seen throughout Japan and, once dry, it stays firmly put long after you've left the dance floor. To get the look, draw a thick stripe of blue eyeliner starting from the inner corner of the eye outwards. Next, extend the line past the outer corner of the eye and diagonally up towards the tail end of your brow at a 45-degree angle. Finish with a few coats of mascara on curled lashes.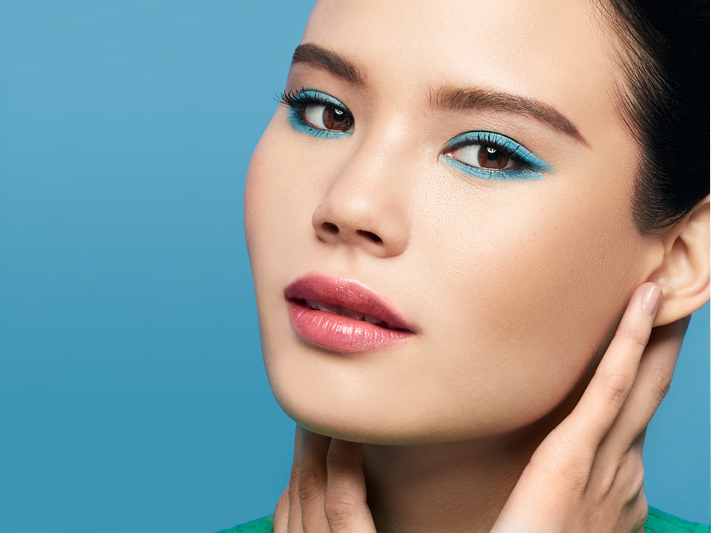 Lit-from-within Skin
Healthy skin is luminous skin, so it should be one look we strive for all year round. But the party season is the time of year when you can go a little OTT on your glow! The easiest way to get skin glowing from the inside out is with a firm, facial massage to both boost circulation and stimulate the production of skin-plumping collagen. On a clean complexion, use one pump of SHISEIDO FUTURE SOLUTION LX Intensive Firming Contour Serum to help your fingers glide easily over skin. Apply upward pressure with both thumbs, starting under the chin and ending below the ears. Do the same motion using the four fingers of each hand to cup your chin and cheeks, and lift facial muscles upwards. Licorice extract ‒ a key player in this serum ‒ helps to keep skin taut, lifted and plumped-up over time too. Next, mix a dewy foundation with a gold-toned highlighter and buff it into skin for a subtle sheen. Add an extra sheer layer of luminizer on the high points of the face – the tops of cheeks, chin, forehead and along the brow bone – to really reflect the light.
Sheer Pastel Eyeshadow
Pastels have a reputation for being saccharine, girly and perhaps even a bit unexciting. But that's no longer the case, proven by the rather sultry pastel makeup looks trending on the spring 2018 runways. And the holiday party season is the ideal time to start experimenting with this softer approach to eye makeup. Go for violets ‒ like the Kajal Inkartist in Lilac Lotus ‒ and rosy hues like the Minimalist WhippedPowder Blush in Setsuko (Rose), which are universally flattering for most skintones. To start, blend the color from the lashline up to the crease, dragging it under the lower lashes for added impact and topping it off with lashings of mascara. If you're a traditionalist at heart and can't fathom an after-hours look devoid of eyeliner, smudge a black kohl pencil into upper and lower lash lines and buff it out onto the lid using a fluffy eyeshadow brush before pressing color over top for a blackened effect.
Matte Nude Lipstick
Toss all preconceived notions of a nude lip aside. When applied with precision, color-matched to your skintone and modernly matte, it's as effective a show-stopper as a cranberry-red pout. The key is in the formula. Flakes and dry patches will ruin the effect, so look for an ultra-moisturizing product. SHISEIDO ModernMatte Powder Lipstick offers the best of both worlds, with it's powder texture enabling your lips to breath with a bold matte finish that lasts. The shade you choose ‒ try Jazz Den, Shock Wave or Nude Streak ‒ is equally as important, and they range from peach to caramel and deep wine-based tones. To define your lip shape, apply your chosen nude straight from the bullet and use an invisible lip liner to trace around the outline of your lips. Your perfect pout is the star of the show so keep your eye makeup to a minimum ‒ an indigo flick or a sheer wash of pastel eyeshadow pair perfectly here for an elegant statement look that will ensure you're the life of the party for all the right reasons.