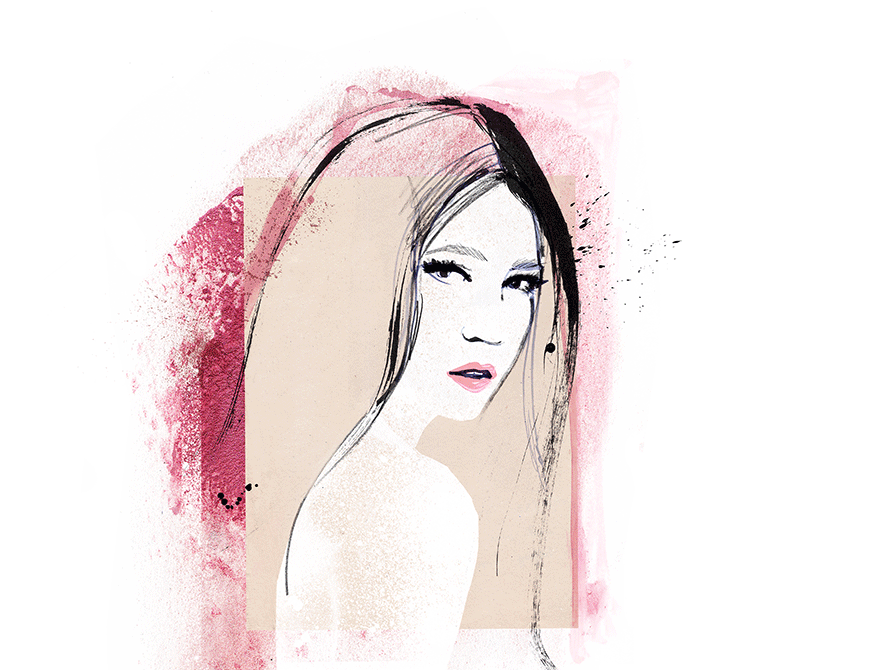 With summer on the horizon, our calendars are bursting with after work drinks, cocktail events and rooftop parties. And though it might seem like extra effort to up the ante after a long day of work, gone are the days when a whole new face of makeup had to be applied to hit the sartorial mark. SHISEIDO's clever new formulas are as long-wearing as they are full of pigment and comfortable to wear and make a speedy turnaround at your desk as simple as can be.
"People don't have a couple of hours to spend in front of a mirror, so multitasking products are key," says Valentina Fratantonio, SHISEIDO UK National Lead Makeup Artist and the beauty pro behind the looks you see here, "You want products that you can reach for after a long day in the office and just top up or add a little shimmer in less than 15 minutes." And while application time might be cut in half, you won't sacrifice on a beautiful look.
1. Glow Getter
Thanks to the raft of long-wearing foundation formulas available today—take SHISEIDO Synchro Skin Lasting Liquid Foundation—there's rarely any need to touch up your coverage pre-party. Besides, it takes time you don't have to reapply. What you do need is a little extra something that catches the light as you dance. "SHISEIDO Aura Dew can be applied on eyes, lips and cheekbones, and gives a really sultry, radiant look," says Fratantonio. "For evening, layer it up to amp up glow." Thanks to the ultra-fine pigment in its creamy, cushiony texture, SHISEIDO Aura Dew melts seamlessly into skin, imparting an effortless glow while also being extremely long-lasting. "I recommend applying it with fingertips for the best—and quickest—results," advises Fratantonio.
2. Blush and Go
Even the most tired cheeks can—and will—go to the party. The remedy? A flush of natural color to wake up the face. The revolutionary SHISEIDO Minimalist WhippedPowder Blush will wake up sallow cheeks whatever your skin tone—from warm pink to reds, there's a hue to suit everyone. The AirFusion technology in the formula (with thousands of micro-bubbles) means it starts as a fluffy mousse, then transforms on contact with skin into a velvet matte powder that won't budge once applied. But where best to apply? "Look in the mirror and smile, then dab a small amount of product onto the highest part of the apples of your cheeks," says Fratantonio, who recommends using your fingers or the SHISEIDO DAIYA FUDE Face Duo brush.
3. Walk the Line
Is there anything more chic than a feline flick for your evening makeup? Up the ante on tired eyeliner and daytime mascara with a slick of SHISEIDO Kajal InkArtist along the upper lash line. It's waterproof and won't smudge, and its soft, rounded tip makes for an easy swipe-and-go application: "It's so versatile, feels lightweight and gives fantastic color impact," says Fratantonio, who points out that it can be used as an eyeshadow, liner, and a brow pencil, making it an obvious choice for your clutch bag, just in case. Opt for classic black (Nippon Noir) or tap into an autumnal feel with the deep purple Plum Blossom, which works beautifully on hazel, green or brown eyes.
4. Lip Service
The beauty equivalent of a little black dress, if there's one thing that requires nothing more than a clean face to pull off, it's a red lip. "Go for a classic matte lip because it's not as high maintenance as a glossy lip," advises Fratantonio, "I love a classic red like SHISEIDO ModernMatte Powder Lipstick in #514 Hyper Red or, for something low maintenance, try the #508 Semi Nude." The beauty of the Modern Matte formula is how comfortable it feels. Thanks to lightweight oils and waxes, they don't dry out lips or feel chalky, and last all night. "For a bold effect, use a little concealer around the edges of the lips, then apply straight from the bullet," recommends Fratantonio, who says this also helps your color last longer.