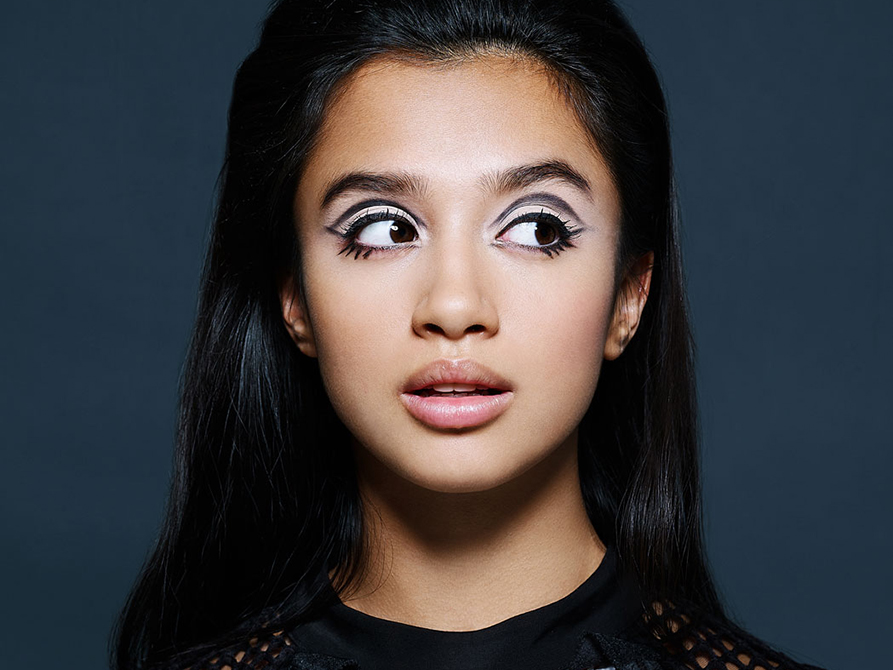 Weekend parties are always a great opportunity to experiment with a new look. Even if these iconic decades passed you by first time round, there's still plenty of inspiration to be found lurking in the archives, from '60s lashes to '70s glitter and beyond. Follow our makeup guide to channel the ghosts of parties past and dust off four decades of iconic party looks. We asked Valentina Fratantonio, UK National Lead Makeup Artist at SHISEIDO, to show us how to freshen up each decade for 2019.
Swinging '60s
Think of the '60s, and what's the first thing that comes to mind? Liner, and lots of it! "Focus was on the eyes—big eyeliner and geometrical techniques that created the illusion of huge, doll-like eyes," says Fratantonio. "Remember, this was a big movie era, and makeup at the time helped to make features look larger when seen from afar or on film. Grey and black cut creases and a pale eyeshadow worn on the eyelid helped to almost redesign eye shape."
With such dramatic makeup came false eyelashes. "False lashes were the accessory of the decade," says Fratantonio. "To recreate the look so it's right for now, I suggest using single lashes to add volume just where you want it. I like to drop a few at the outer corners of the eyes to make them appear more feline." As for eyeshadow, she adds: "Blend a shade similar to your skin tone over your entire eyelid to 'neutralize' any discoloration, then define your crease with a color a few shades darker to create a natural shadow. This is a great trick to make your eyes appear larger and more defined if your natural eye shape is hooded." The SHISEIDO Essentialist Eye Palette in Miyuki Street Nudes is ideal for creating this kind of look.
Super-Cool '70s
Instead of bold, structured eyes and pale lips, things became a bit more fun and hippified in the '70s. "The '70s was a decade of disco and Studio 54, so there was a lot of shimmering textures, bold and pastel colors, and plenty of blush blended into eyeshadow," explains Fratantonio. "It was definitely an era of experimentation."
For a modern take on this playful look, sketch SHISEIDO Kajal InkArtist in 02 Lilac Lotus or 05 Plum Blossom over your entire eyelid and buff out the edges with SHISEIDO NANAME FUDE Multi Eye Brush.
Electric '80s
The '80s were fun, and it was definitely reflected in the makeup. Remember all those brilliantly bright eyeshadows, lipsticks and blushers? "Contrasted colors were definitely a mood in the '80s," says Fratantonio, Think bold blues over the eyes, a flash of pink over the tops of cheekbones and a cherry red on lips.
"This is an easy look to create," says Fratantonio. "Sweep SHISEIDO Kajal InkArtist in 07 Sumi Sky over your entire eyelid—no precision necessary—and blend the color out towards your temples with SHISEIDO NANAME FUDE Multi Eye Brush. Don't forget to blend the color underneath your bottom lash line. Now, lightly sketch SHISEIDO Kajal InkArtist in 08 Gunjo Blue (a darker, inkier blue) along your upper and lower lash line to add more intensity." Finally, top everything off with lashings of of black mascara.
Nude '90s
Grunge famously reared its head in the '90s, a noticeable departure from the fun and frolics of the previous decade. Gone were the bright eyeshadows and neon blush, and in their place arrived a palette of nudes, caramels and toffees, sheer lipsticks and a newly discovered love of lip gloss. Brows became thinner as eyes became less of a focal point and makeup, in general, became a more grown-up affair.
Now, '90s makeup is enjoying a resurgence in popularity. Lip gloss is back but this time round, it's less sticky, more comfortable to wear and glass-like in its shine. SHISEIDO Crystal GelGloss delivers on every count. For a proper '90s lip, look no further than SHISEIDO VisionAiry Gel Lipstick in 210 J-Pop for fair skin tones, 211 Rose Muse for medium skin tones, and 212 Woodblock for dark skin tones.