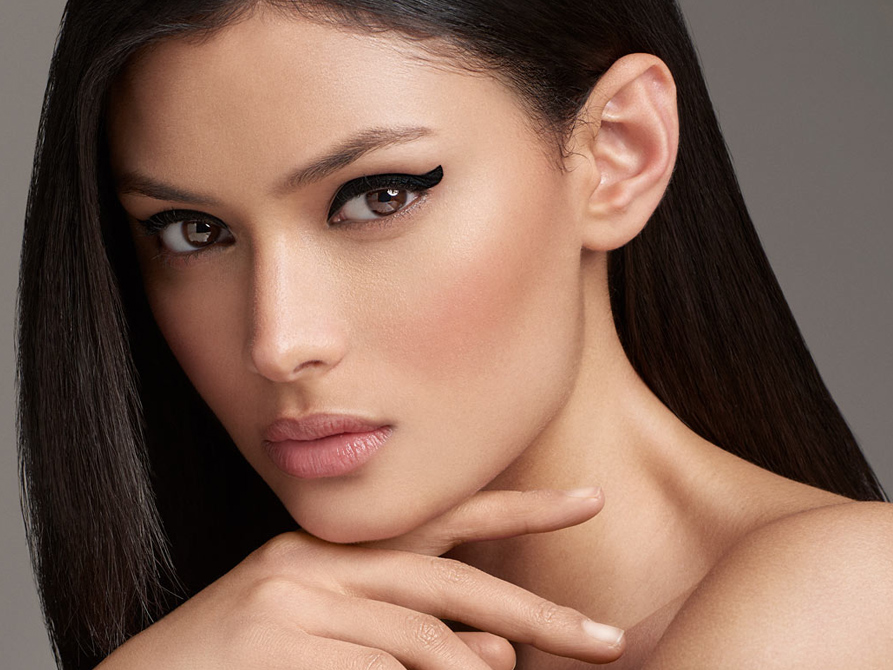 While eyeliner flicks have traditionally been a fall catwalk mainstay, this spring, the cat's eye swoop has ruled the runways. Cue those negative-space, graphic eyes at Rochas, the extravagant inky blue flicks at Fendi and, of course, the freehand, rockabilly liner at John Galliano. The list continues: reverse feline flicks at Jill Stuart; graphic shapes at the outer corner of the eyes at Lanvin; pastel stamped-on offerings at Missoni; top-lid only glossy liner at Moschino; and a high-shine intense flick at Dolce & Gabbana.
Eyeliner doesn't have to be perfect
"Slightly dangerous, but expensive" is how makeup guru Pat McGrath described the glittery black liner look she whipped up for Tom Ford backstage at New York Fashion Week. Her unique, bubbly cat's eye with a rounded wing aside, "dangerous but expensive" could be the graphic eyeliner's epitaph, so neatly does it sum up the allure of the cat's eye look. Not that it's going anywhere soon. A dramatic, fresh yet sexy vibe with lashings of sultry, feminine allure means bold eyeliner is always going to be appealing.
"A flirty, feminine flick is so versatile," agrees makeup artist Florence Lee. "This season's are more detailed, bigger and bolder. We've seen plenty of rounded, graphic shapes with an art house edge and less of a feline feel." Rather than lashline-hugging flicks, go freestyle by circling eyes in almond-shaped rings or taking a cue from the Eudon Choi show, where anyone who struggles with nailing perfect liner can find solace. Inspired by "an aristocratic woman who spends her summertime in her house by the sea while painting," according to makeup artist backstage at the show, Adam de Cruz, the wobbly liner was the result of her car going over a pebble as she applies her makeup in the car! "Imperfect liner encourages us to experiment and play," adds Lee. "That's the entire vibe of Spring/Summer."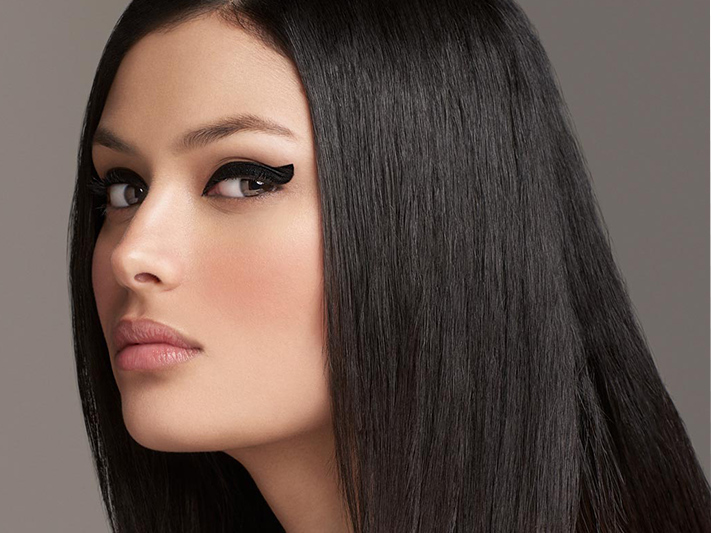 Iconic Egyptian
Ultra-graphic, ultra-pointy, and with no shortage of drama, Cleopatra is the most famous early purveyor of eyeliner. Heavy along the bottom lashes and sweeping right into the inner corners of the eyes, it's believed that Cleopatra's liner was created using an early lead-based kohl, which supposedly boosted the skin's ability to fight off infections.
At Carolina Herrera this season, makeup artist Diane Kendal recreated Cleopatra liner with bottom-heavy kohl that neatly circled the eyes. A few days later, at the Marc Jacobs show, she extended the wings into razor-sharp points, adding sharp points to the inner corners too, in a modern take on the iconic Egyptian beauty's signature look.
60s Swing
Iconic 60s model Twiggy's classic eyeliner has spawned copycats throughout history, including liner lovers such as Kate Moss and Alexa Chung, who added their own take on the Twiggy trend. Note the avant-garde dots that Twiggy used to emphasize her lower lashes, as well as that confidently drawn on feline flick, worn with porcelain skin and nude lips, which became her signature look.
At Dolce & Gabbana, the regal feline flick had a more feminine, sultry air that paid homage to that other 60s liner icon, Brigitte Bardot. Considered the pinnacle of Parisian beauty, the actress paired her graphic eyeliner with a light smoky eye, pink lips and a matte powder blush—a beauty look that's still considered classic date night fodder.
Rock 'n' Roll Eyeliner
Not forgetting the "dangerous" part of "expensive and dangerous", bold, black liquid liner is the wardrobe equivalent of a leather jacket. It adds a tough edge to even the floatiest spring florals. At Versus by Versace, the liner was soot black and expertly applied with a smudged-in finish. Think Kate Moss in her play-hard party girl heyday or Amy Winehouse's iconic, punky and always overdrawn feline flick.
For a lived-in look, keep the texture soft by smudging a little clear gloss over your first liquid line. Then layer on another using SHISEIDO Kajal Inkartist to create a flick that has I-woke-up-like-this appeal.