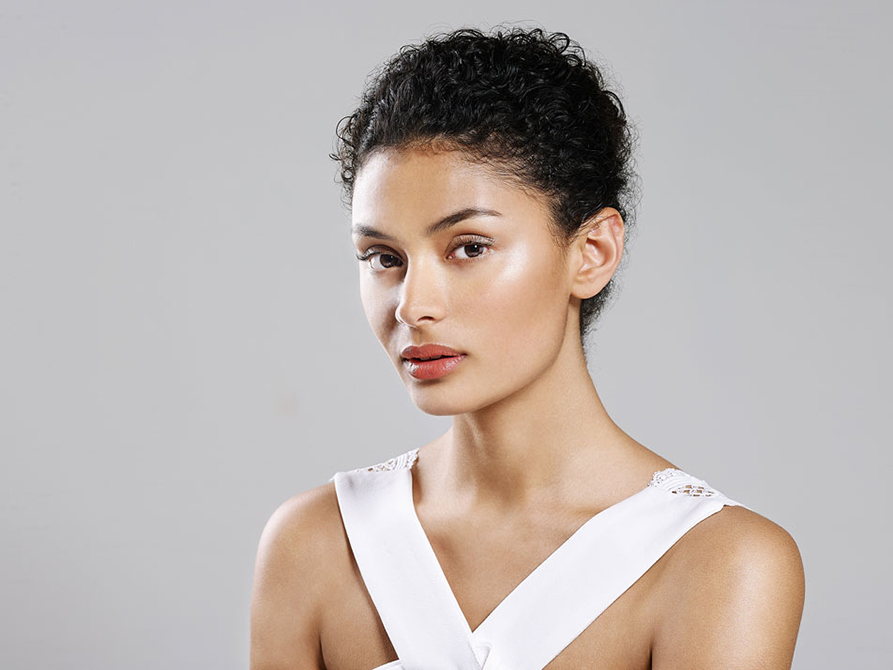 There is joy to be found in applying makeup. Most of us will add a touch of concealer, blush and mascara in the five-minutes before leaving the house in the morning, but when there is time to prep skin and execute proper, evening makeup it's an altogether different experience; one that's worth savoring.
Special occasions require a subtle yet impactful makeup look that shimmers and glows in the moonlight. SHISEIDO UK National Lead Makeup Artist, Valentina Fratantonio (who directed this shoot) knows a thing or two about creating a standout makeup look. Follow along with her step-by-step instructions for creating this ethereally lit makeup.
STEP ONE: Cleanse
Such understated makeup requires a flawless and impeccably hydrated base. Begin with SHISEIDO Waso Quick Gentle Cleanser to remove surface impurities and prep your skin for what's to come. It's free from alcohol and oil, and utilizes honey to gently, but effectively, clean skin.
Follow with SHISEIDO Waso Fresh Jelly Lotion to up hydration. This gel-to-liquid lotion helps skin to retain water while simultaneously minimizing shine and the appearance of pores. Use the palms of your hands to press the formula into your skin.
Lastly, seal in moisture and create a base for your makeup with SHISEIDO Waso Quick Matte Moisturizer Oil-Free; it has been formulated with Loquat Leaf Cells, which regulate sebum production and prevent excess shine.
STEP TWO: Get the Base(ics) Right
Now it's properly prepped and hydrated, it's time to perfect your skin. Even out redness and disguise blemishes with a light layer of SHISEIDO Synchro Skin Glow Luminizing Fluid Foundation; its buildable sheer to medium coverage will subtly perfect skin while allowing your natural texture to show through. Apply it with SHISEIDO DAIYA FUDE Face Duo. This ingenious brush makes it so easy to create a flawless base. On one end, you'll find a diamond-cut brush that blends and buffs liquid foundation to perfection, while the other end features a hygenic gel tip that mimics the motion of fingertips to press, pat and perfect.
STEP THREE:
Get Your Glow On
Apply SHISEIDO Synchro Skin Illuminator to any areas where you would like to see more glow, such as the highpoints of your cheeks, your Cupid's bow and your brow bones. Up the glow further by pattering SHISEIDO Aura Dew in 02 Solar over the top.
STEP FOUR: The Eyes Have It
Using SHISEIDO NANAME FUDE Multi Eye Brush, sweep a fine coating of SHISEIDO Aura Dew in 02 Solar over lids and into the crease of your eye socket. Blend a small amount under your bottom lash lines, close to the roots of your lashes. Curl your lashes and apply SHISEIDO ImperialLash MascaraInk to the top ones.
STEP FIVE: Finishing Touches
Cheeks and lips complete your look, and they should be subtle, like a watercolor of warmth. Buff SHISEIDO Minimalist WhippedPowder Blush in 07 Setsuko onto the apples of your cheeks, and blend back onto the highs of your cheekbones. Setsuko is a fantastic dusty rose shade that enhances all skin tones. Finish with a glossy peachy coral on lips, such as SHISEIDO LacquerInk LipShine in 306 Coral Spark.