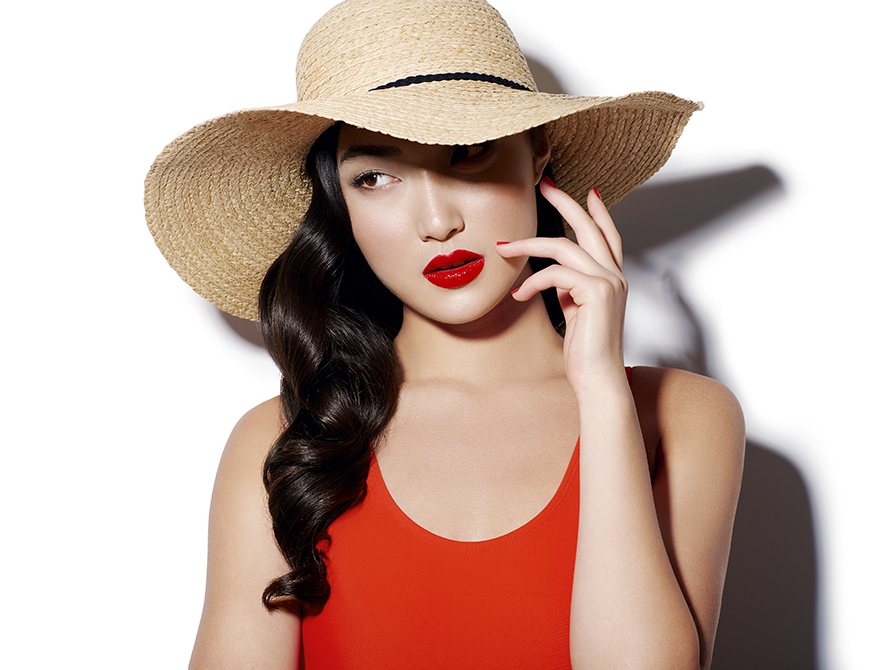 When the temperatures are rising, you want no-nonsense beauty tips that will keep you looking hot and feeling cool. While we all know women who arrive at the beach or poolside without a scrap of makeup and still look gorgeous, many of us appreciate the extra glow or flush of color that a dash of expertly applied product can provide. And why not? A flawless complexion plus subtly pretty eye and lip hues can give you a dose of confidence that's ideal for a day by the beach. Here's how to emphasize your natural beauty without losing your cool, J-Beauty style.
Don't Skip SPF
If you've heard it once, you've heard it a thousand times. But that doesn't stop the advice being true—using a high-factor sunscreen is absolutely essential.
"Once you've applied light layers of skincare, do the same with your sunscreen," says makeup artist Rebecca McMahon. Try SHISEIDO Ultimate Sun Protection Lotion WetForce SPF 50+, which is a lightweight, easily-absorbed formula that provides the skin with a protective veil. The best part? Its protecting veil is increased on contact with water, whether that's the splash of the ocean waves or perspiration. "Ensure your sunscreen is always the last layer of your skincare," advises McMahon. "This makes sure your moisturizer and serum actually do their jobs effectively, as they can still penetrate the skin, while the top layer of sunscreen works to effectively keep the rays out."
When layering products—a key Japanese Beauty technique—it makes sense to allow each thin layer to dry before applying the next. Apply your moisturizer on top of your serum as the formulas are compatible and work together to provide essential hydration to your skin. But, wait a few minutes for your skincare to dry before applying your sunscreen. Leave 10-minutes after applying sunscreen before getting to work on foundation or tinted moisturizer. Light, easily-absorbed textures are also a hallmark of Japanese Beauty, thanks to Japan's hot and humid climate, so summer is the ideal season to tweak your skincare routine.
Good to Glow
A radiant complexion is the beauty holy grail when the sun is shining. But keep it light: J-Beauty aficionados demand clear, cared-for skin that shines through, rather than heavily made-up faces and thick bases. "Firstly, love the skin you're in," says Phamova. "The days of trying to look like someone else are over. Modern beauty is all about celebrating your own unique features, skin tone and texture."
SHISEIDO Sports BB Compact SPF is ideal for giving you a subtle wash of color, while protecting your complexion from the photo-aging effects of the sunshine. This innovative long-lasting multi-tasker lands somewhere between makeup and suncare and expertly maintains hydration levels while withstanding heat and sweat. Its Quick Dry technology uses a clever polymer to disperse sweat over the surface of the skin so that it evaporates quickly. You won't find uncomfortable running beads of sweat here. "Japanese women are fastidious about looking after their skin," says Phamova. "This means a multi-step skincare routine and sun protection every single day. The focus is on long-term care and prevention rather than quick fixes."
Beach Beauties
The original red lip has long been a mainstay of Japanese beauty. Classically alluring and iconic, women wore crushed safflower petals made into a paste and applied to lips. The bright vermilion shade was long-lasting, if a little painstaking to apply. For a modern-day take with universally flattering reds, try SHISEIDO ModernMatte Powder Lipstick in Flame or Exotic Red. Unlike some matte lipsticks, the innovative formula offers the comfort of a balm with all the richness and depth of a high-pigment lipstick. Apply straight from the bullet for a fresh look.
"Stick to sheer, shimmering shades on the lid to complement a bright lip," suggests McMahon. Then sweep on SHISEIDO InnerGlow CheekPowder, a blush and highlighter hybrid that stays put for eight hours. "The shades are ultra flattering and give an instant, illuminating flush that makes everyone look prettier," McMahon adds. Try Aura Pink for a J-Beauty-inspired ethereal wash of color that lifts the complexion.