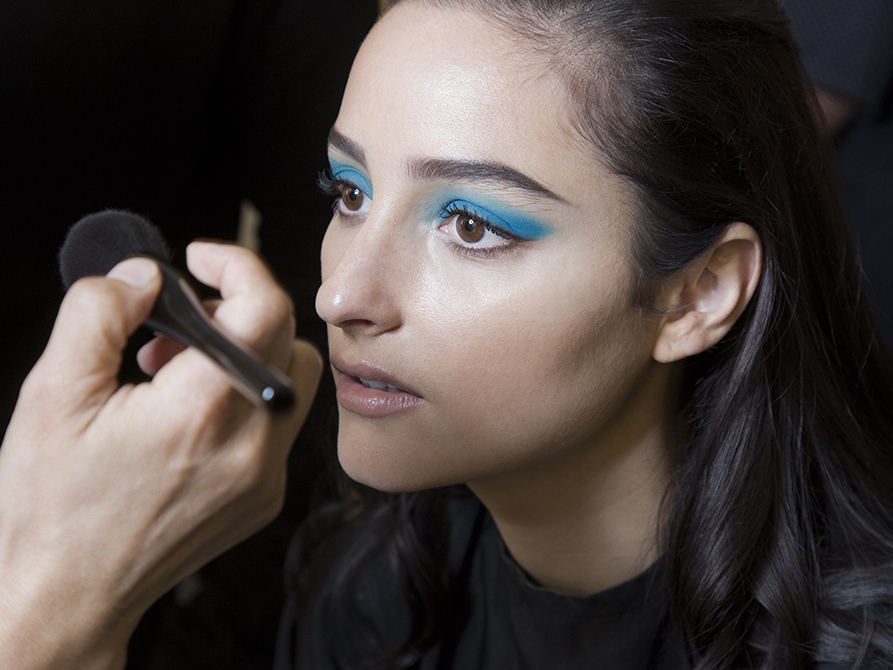 We know her simply as Banks, but before she was an accomplished singer and songwriter—who is now known around the world—Jillian Banks was a student of psychology. At the age of 15, and reeling from her parents' divorce, Banks put pen to paper and starting composing music as a channel for her emotions. "Music came out of darkness for me," she says. "It started because I was going through such a hard time and I needed an outlet."
Fast forward a few years and Banks has enjoyed a string of hits. Her first album, Goddess, launched in 2014, charted within the top 20 of countries including the UK, Australia and Germany. Her second album, The Altar went in at number 17 on the US Billboard 200.
"Music is the love of my life," she explains. "It makes me feel like gravity doesn't exist. It's the lightest I could possibly be."
Now, singer Banks brings that fluidity to SHISEIDO Inks makeup campaign. "Banks' music and persona are characterized by the precise and poignant control she exercises over her musical range and creative vision," says Jill Scalamandre, President of SHISEIDO's Makeup Center of Excellence. "Her inspired vision has resulted in a bold and instantly recognizable sound—a perfect parallel to striking Inks."
Banks talks to us about partnering with SHISEIDO, her beloved Kajal InkArtist, her passion for Tokyo and how she came to embrace her imperfections.
SHISEIDO: Tell us about your work with SHISEIDO.
Banks: "I am really excited about partnering with SHISEIDO because I feel like they represent a lot of the same things that I attempt to convey through my music, particularly authenticity and depth. There is a beautiful minimalism about the brand—everything is effortless and feminine, but strong at the same time, which is what I always strive to be."
SHISEIDO: How does Japan, the birthplace of SHISEIDO, influence your work?
Banks: "When I was thinking about my wardrobe for my last tour, I was really inspired by Japanese fashion. It's simple, elegant and strong. There is also a subtle femininity to Japanese design that I wanted to fuse with my personal style."
SHISEIDO: What was your favorite part about visiting Japan?
Banks: "When traveling to Tokyo, I love that the people and the colors are so vibrant. Everyone is so welcoming, and I always leave inspired. I want to taste everything and see everything! I also feel like the people are very open, interested in new things, and excited about art."
SHISEIDO: In Japan, it is common to celebrate the beauty found in imperfection. What is your personal definition of beauty?
Banks: "I think there is a certain point in everyone's life when they strive to be perfect. I've definitely gone through a stage where I craved control, but I discovered that perfection is quite boring. Imperfect is just another way to say unique. To be imperfect is to be human. Eccentricities are what make a person truly beautiful."
SHISEIDO: After trying Kajal InkArtist
—the product you wear in the new SHISEIDO Makeup campaign—what was your first impression?
Banks: "When I first interacted with the product, I was excited because I'm not amazing at doing makeup and it was easy to use. The pencil was so versatile, and allowed me to draw a thick, precise line or smudge it out across my lids like an eyeshadow. You can use it to create a simple or a dramatic look."
SHISEIDO: What is your process like when you create new music?
Banks: "It always starts with a mood, a phrase, or something I need to say, then I naturally develop a simple chord progression or melody—it's very fluid. Some people reach a deeper level of calm when they meditate, which is exactly how I feel when I'm making music. I don't even have to think, it just happens. That's another reason why I think it's cool that I'm partnering with SHISEIDO on this specific collection, because everything about it is intuitive and flows from one form to another—just like my music."